You just built some commercial buildings throughout New Jersey, and everything is going great! But as time goes on, facility maintenance becomes essential for any commercial construction project in New Jersey. Things like interior painting or stairwell repairs are needed, and hiring a contractor to do it on a one-time project can get costly. Go with regularly scheduled facility maintenance contractors. These guys can make sure your building is well taken care of through facility maintenance services like interior painting or patching, inspections, electrical work, and other services. This way, your commercial project is able to remain in top condition, along with ensuring that it meets the safety requirements of New Jersey.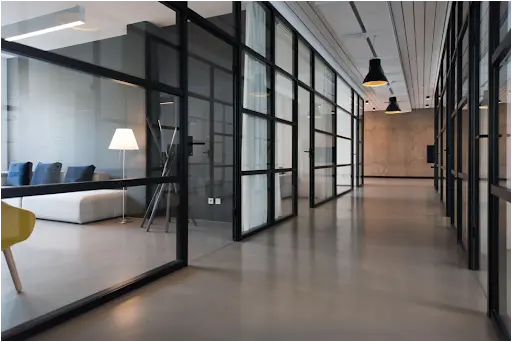 DLI Commercial can get you in contact with exceptional facility maintenance teams, even for large-scale buildings. Read more on how DLI Commercial can help keep your commercial construction projects in NJ running smoothly.
Understanding the Importance of Facility Maintenance for Commercial Construction Projects in NJ
Have you ever noticed paint chipping or airflow not being as strong in some apartment complexes? This is an example of commercial property owners not taking advantage of facility maintenance. With a facility management company like DLI Commercial, they can help find you facility maintenance workers with all the certification requirements and offer services like floor cleaning, steps and railing repair, lighting replacements, carpentry, drywall fixes, cabinet replacements, and more. This is all through their high-tech facility management software.
For anything that needs to be replaced or fixed, we ensure your commercial infrastructure in NJ is up to code with all of the regulations. We also provide emergency response services from a reliable facility manager to address any unexpected issues that may arise during the building's lifespan. So, if you are in need of maintenance in the middle of the night, the emergency response team will be there as soon as possible, whereas if you do not have a facility maintenance team, you could be waiting for hours for someone to come help.
Advantages of Routine Repairs and Preventive Maintenance
Repairs can get expensive, especially if you own an apartment complex or office spaces. The best thing you can do as a commercial building owner is to have regularly scheduled inspections to help identify problems before they become too serious and too costly. This way, a facility manager can fix the initial issue and increase the lifespan of the facility or building.
So where do you find these guys? DLI Commercial can luckily provide you with certified facility management professional teams who can inspect and repair your commercial facilities in NJ, so you do not have to worry about any unexpected issues arising later on down the road. Rather than spending an arm and a leg hiring one person every couple of years or so, go with facility maintenance companies like DLI to offer you the competitive pricing, costs, and reliable service you need to keep your building and assets in top condition.
The Benefits of Regular Inspections and Keeping Up with Codes and Regulations
Say there is a fire in your commercial building, and your tenants or customers are in danger. The last thing you want to worry about is if your structure is up to code. This can be hazardous for your clients and cost you thousands of dollars in fines. Commercial construction projects usually take into account any things that could be considered unsafe before they finish the job. However, there are always some assets that need upkeep, which is where facility maintenance comes in.
The good news is, DLI Commercial can get you hooked up with certified facility managers who have the experience to keep your commercial property up to date with all the codes and regulations necessary for safety. They strive to provide you with regular inspections and reliable repair services so that your commercial construction buildings remain as safe as possible. They also offer a variety of services designed to keep your building running smoothly, including interior retail and office fit-outs, fire/life safety system inspections & installation and maintenance, and more.
Maintaining a Safe Working Environment for Commercial and Residential Construction
Safety is everything when you own residential or commercial facilities. Everyone wants a safe environment, whether they are residents, customers, or workers. This is why industrial maintenance in commercial construction is extremely important because, through the detailed inspections that go with most property maintenance plans, you can make sure that your equipment and the state of your building are in good condition and operating as they should be.
Through the initial stages of the commercial construction process, you will see professionals conducting building walkthroughs inspecting the floor plan, and seeing if any additional materials are needed to ensure the existing structure is a success. This way, you can make sure that the commercial property is up to code and free of any potentially hazardous materials that can lead to danger or fire.
Minimizing Downtime for Businesses by Staying Ahead of Potential Issues
By prioritizing maintenance services within your facility, you can minimize downtime for your business. While a maintenance team or maintenance technician can spot potential issues early, you can fix them quickly and efficiently throughout the construction process. This way, you will not be put in a position down the road where the issue is a lot more serious and more than likely a lot more money. Facility maintenance services with companies like DLI Commercial can get your commercial structures in New Jersey ahead of the curve when it comes to replacements or repairs. Overall, this is the best solution for all parties involved because if everything industrial in the building stays fixed and maintained, then everyone will be happy.
Conclusion
From reading this blog, we hope you understand the importance of facility maintenance services with commercial construction in New Jersey. Your commercial construction project can run smoothly, facing little to no headaches by working with reliable companies like DLI Commercial, who have been in the construction industry for over twenty years.
They have built offices, gyms, parking lots, residential buildings, hospitals, and other commercial construction projects. DLI can help you with services like fire safety standards and inspections, painting or patching, HVAC unit repair, and more. Get in touch today, and let them help you keep your commercial facilities running safely and efficiently.