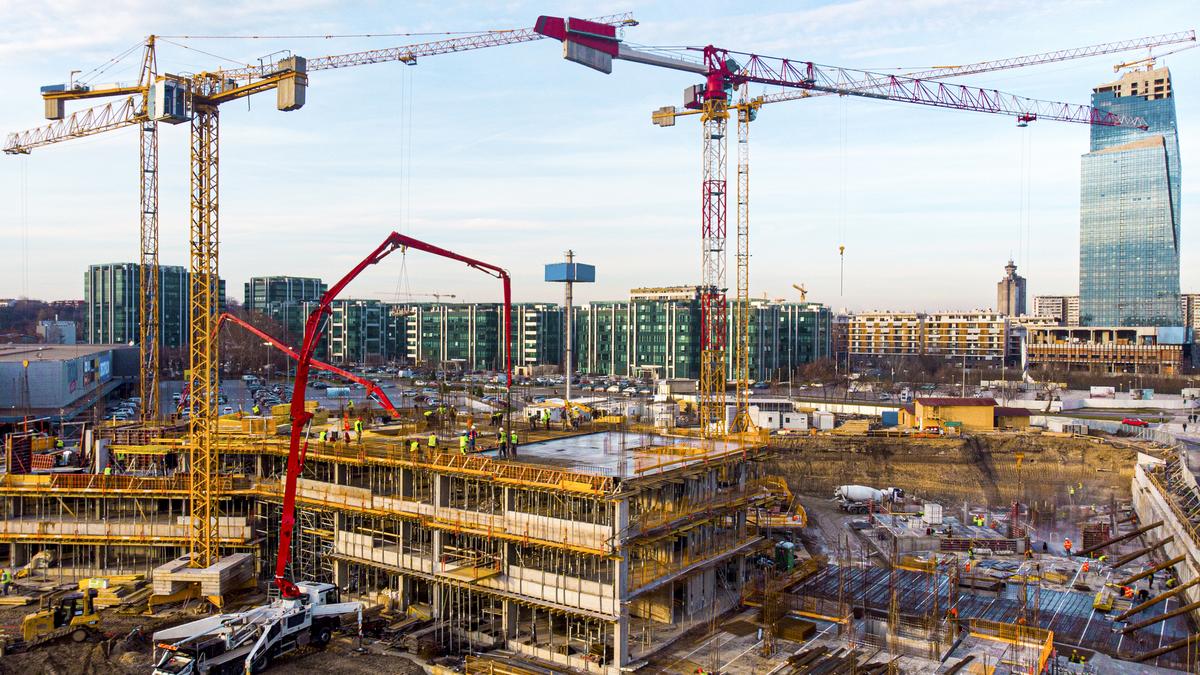 Finding the best construction companies in Pennsylvania is time-consuming and can be a lot more difficult than one might think. So let us do the research for you and make sure you know what you can get out of working with some of the best commercial construction management companies.
At DLI Commercial, we provide commercial customers in eastern Pennsylvania with reliable services from start to finish – bid negotiations, quality control, ongoing support, repairs and service, preventative maintenance, emergency service – whatever your project needs. Read more about what benefits you can experience with top-grade commercial project management.
Bid Negotiation on Commercial Construction Projects
Bid negotiations are an integral part of the commercial projects process. By working with DLI Commercial's commercial construction manager, we can provide thorough bid negotiation services to ensure that all contracts, timelines, and budgets are met, all while the project remains on track for a successful finish.
Our many offices and years of industry-experienced staff are well-versed in the construction industry and can help you get the best possible price for your project. This way, you don't have to waste time and energy searching for the best contractor and their prices on services.
Procurement Services
You'll need someone with many contacts when working on a construction project. Luckily, our team has access to the best suppliers and vendors in the Eastern Pennsylvania area. DLI Commercial can use our network of connections to provide quality materials at competitive prices. Also, we can provide timely delivery of materials to ensure that your project stays on schedule.
Quality Control
Quality is what makes or breaks a project. The worst-case scenario could be cheaply created commercial structures that can damage or even crash over time. Therefore, you'll want to make sure that quality over quantity is the priority when working on a pre-construction project.
When you work with construction companies like DLI Commercial, you'll want them to have the tools and expertise to ensure that your project meets all quality control standards. So we make sure to inspect all areas without cutting corners before construction even takes place. This way, you can rest assured that your project will be built correctly from start to finish. Also, we heavily monitor quality control standards to ensure that all components of your project meet the highest levels of safety and performance.
Our crew has the know-how to inspect building materials and construction work, ensuring your development meets Pennsylvania code requirements.
Repairs & Service
When something breaks on the construction job, the last thing you want to deal with is hiring someone else to fix it. At DLI Commercial, our risk management people can provide you with all the repairs and construction management services for residential or retail to keep the planning and development running smoothly.
Our trusted construction managers offer convenient repair services such as plumbing, electrical, HVAC maintenance, and more, as well as emergency services in case of a breakdown, from small-scale jobs to large-scale projects like office buildings or residential properties.
Talk to Your Commercial Construction Project Manager about Preventative Maintenance
Without worrying about fixes or repairs all the time, you'll want to work with a commercial construction company in Pennsylvania that has top-rated preventative maintenance. Preventative maintenance is important for any planning because it prevents unexpected breakdowns and costly repairs. So when deciding on who to go with as far as general contractors, make sure to bring up preventative maintenance so that it's taken care of pre-design and construction.
Scheduled Maintenance and Inspections
DLI Commercial also offers scheduled maintenance and inspections to keep your building in A-grade condition. We provide these construction services to prolong the life of your building and its landscape. By regularly inspecting and maintaining your structure, we can ensure that your facility operates at peak performance.
Cost-Effective
A project cost is everything! When hiring Pennsylvania-based construction companies, pricing is one of the first things you should review. With DLI Commercial, you don't have to worry. We offer cost-effective services that won't wear on your wallet.
By negotiating fair and competitive prices with our suppliers and vendors, we can provide you with top-tier resources at a fraction of the cost for the entire project. We also work closely with your budget to develop a plan that works for you all while still delivering high-performing results.
Time-Saving
Do you need your commercial construction schedule done in a certain time? No problem! Our project team has a fast-track construction process that will help you complete your project faster than ever. In addition, our contractors and technicians are highly efficient, working around the clock quickly to complete projects promptly.
Tight Deadlines are Everything
We understand the importance of tight deadlines, and our crew is dedicated to helping you finish your build on time. However, construction companies in Pennsylvania should prioritize the importance of tight deadlines so that they're saving time and all aspects of the project are done correctly; this not only saves money but can also help you get your property up and running sooner rather than later!
Customer Satisfaction
Now that the work is done, is it up to par with the customer's wants and needs? At DLI Commercial, customer satisfaction is our highest priority. Therefore, our construction manager keeps the lines of communication open throughout the process to meet your project's needs best.
Trust us. We know our stuff, so you can be confident that your project was completed precisely and carefully.
Summary
DLI Commercial is one of the leading commercial construction management companies in Eastern Pennsylvania that luckily offers new construction, repair, maintenance, high-quality construction materials, emergency services, and more in Montgomery County, PA. We are dedicated to providing construction service that meets your unique needs.
With DLI Commercial, you can trust that your project will be completed on time, within budget, and with guaranteed customer satisfaction. Contact us today to inquire about your next construction project!